bargraph drivers / mounting PCBs
DDV-53
DDV-106
bargraph drivers / mounting PCBs:
Provides both signal driving and mounting
for PrimeLED bargraphs.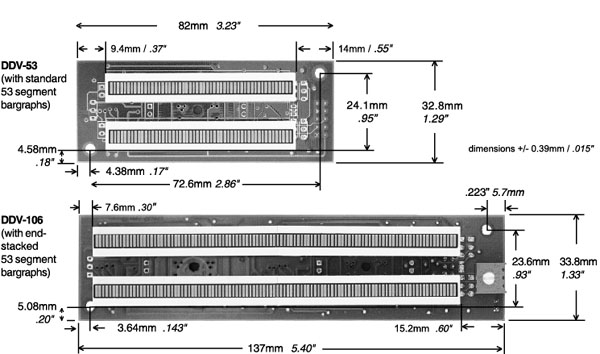 Ideally suited for driving the 53 and 106 segment bargraphs from any digital device, the DDV-53 and DDV-106 accept a fixed-length word serially, and then latch outputs for the bargraph segments corresponding to those bits in the received word which are set high. Outputs are latched until receipt of all bits of the next input word.
Brightness controls are also available. Driver modules for the 25 and 26 segment bargraphs are in development.
The DDV-53 module operates two bargraphs with a single +5V supply at approximately 300 mA; the DDV-106 requires 600 mA. Current consumption is for a set of DDV- and ALI- modules, including bargraph drive current at normal brightness.
toll-free USA: 800-944-2230
©2020 Prime LED